Santa Barbara, Grease Recycling
Used Cooking Oil Collection Santa Barbara - Pick Up & Recycling.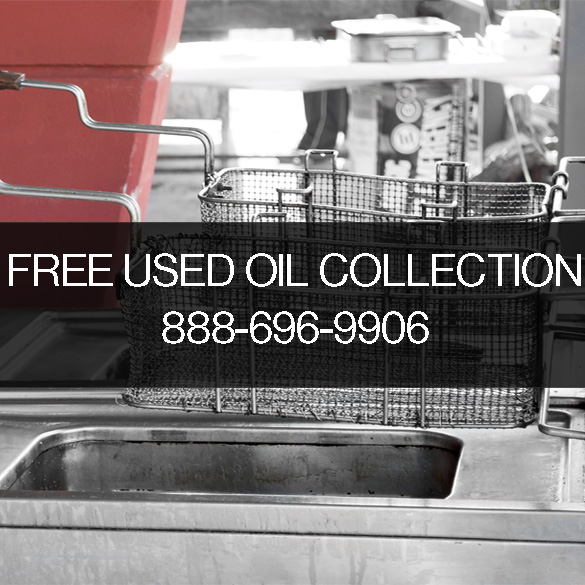 Restaurant Grease Collection Service
Licensed Inedible Kitchen Grease Hauler (Santa Barbara Approved)
---
If you are in search of a grease or used cooking oil company that will provide you with an an exceptional service quality and keep in compliant you've come to the right place. Gease Mangement Solutions offers a dependable and reliable waste oil collection service throughout Santa Barbara, California. Our team of servicers offers flexible scheduled or on demand pick up services that caters to your needs. Furthermore, for your convenience we have various grease storage containers suitable to the needs of your place.
Need A Licensed Used Cooking Oil Collection Company?
100% Compliant Providing Dependable & High Quality Serving Santa Barbara.
---
Restaurant Grease & Waste Fryer Oil Disposal
Used cooking grease or deep fryer oil from restaurants must be disposed properly and picked up by a licensed grease collection company. Restaurants are held liable by the city inpectors to ensure that the all waste cooking oil being picked up are done by an approved state, county, and city. Failing to show proof that the used cooking oil is being collected by a licensed hauler can lead to citation by the waste water department. Since Grease Management Solutions is affiliated with the large network of used grease and used cooking oil collectors in Santa Barbara, California; we will make certain that you receive immediate and superior service at all times.
---
Proof of Collection & Manifest Reports
During every pick up, the restaurant will be provided a manifest report or service receipt as proof that the fryer oil is being collected and recycled by a licensed grease hauler. The manifest report will summarize the name of the grease collection company, manifest number, amount of oil collected, time and date of collection. In a case of an audit, rest assure that we will provide and assist you with all the necessary information needed to keep you in compliant with any health or waste water district cooking oil disposal requirements. We highly suggest to put all manifest reports provided by our collectors in a file for future refernce.
Grease Management is all you NEED to keep you in COMPLIANT!
The #1 & Most Dependable Grease Collection Service.
---
What is The Price of Grease Collection Service?
Currently, there is no cost for collecting and recycling your waste cooking grease as long as 40 gallons of oil is being collected during every pick up. Hence, in an event that the price of cooking grease rise in the near future, we will provide customers with a rebates.
---
Storage and Recycling Containers For Restaurant Used Cooking Oil.
Every restaurant will be provided a storage container suitable to meet your needs. Container sizes will vary and depending on the space; we can provide you with a small inside or large outside container. All containers, we provide are fully sanitized and free of any leaks. In an event that the grease container becomes mucky or become highly contimited with heavy grease build up, we will replace or clean it free of charge.
---
Pick Up and Collection Schedule.
We provide both scheduled or on demand grease collection service. We will pick up used cooking oil from customers as often as needed assuming that we are collecting a minimum of 40 gallons. Whether you are in need of a weekly, bi weekly, monthly, quarterly, etc. grease collection service, we will make sure that we collect your oil on a timely manner to eliminate any hassles in your kitchen. Similar to trash, we know the importance of having waste picked up making sure that it does not overfill so that you will always have room to put your waste oil into. When dealing with Waste Management Solutions, we will ensure you high quality and dependable service.
Schedule Service
---
Waste Water Sanitation District FOGS Regulations.
Used cooking oils from the restaurant or food industry are categorized as a waste and can be a serious problem if improperly disposed down the drain. In most cases, the waste water and health inspector suspects if the restaurant does not have a proper company collecting or picking up waste grease, it is most likely going put in the sink as a source of disposal. With this in mind, it not only contaminates the plumbing at the business but also find its way into the city sanitation line causing major build up leading to overspills. Even though you have flushed it with hot water or soap, it will be a gel and change into solid residue in the form of thick layers inside drainpipes or sewage pipelines so that it can constraint water flow which negatively affect the plumbing system and contaminate the city drains. Indeed, it's messy, smelly, and miserable and expensive to clean up when major blockage occurs. Specially for the restaurant or food industry with the high rate of cooking oil consumption, pouring down the used cooking oil into the river or ocean will be a disaster as it brings negative effect toward the environment. Thus, regulations on the disposal systems, particularly on used cooking oil have been made and must be complied by every restaurant. Based on the code regulation, it is a must for every restaurant to recycle their used cooking oil. The restaurants which do not obey this regulation can have very costly fined or penalties, even the closing of the kitchen.
---
Proper Way of Disposing of Used Cooking Grease.
When disposing of cooking grease it is imperative to take precaution and make sure that the grease is not hot. Therefore, before attempting to remove any oil from a deep fryer, pan or pot it is imperative to wait fo a bit before putting it in the waste oil container. Once the oil has cooled down, safely place the grease inside the grease container provided. If a spillage has occurred be sure to immediately clean it up to prevent any accidents from occurring. In an instance that a large amount of grease spill out be sure to use absorbent to soak up the oil. Note, use of water or degreaser may cause the spilled oil to spread therefore, be sure to have the proper blockade to avoid the contamination to spread.
---
What is Used Cooking Oil Recycled Into?
Reycling waste cooking oil gives us sustainable eco benefits. Probably you will ask or be curious about what the companies will do with the grease waste disposed from fryes and we are here to provide you with those anwers. The used cooking oil from the restaurants are recycled into different products such as: bio diesel, soap, perfume, animal feed, paint, etc.. The quality and purity of oil will typically determine the product it will be used for. Therefore, note that all waste grease collected are recycled into renewable goods.
---
Can I sell my cooking oil?
As of now we are not paying or buying used cooking oil from restaurants. Since yellow grease is a commodity, when prices soar, we will pay a percentage of the yield spread. When selling used cooking oil, restaurants will get paid on the oil collected minus the water and solids. Pricing will be based on the Jacobsen yellow or brown grease price.
---
Why at is the difference between grease trap oil vs fryer oil?
Grease from traps contain a very large amount of acid, water and solid waste. Unlike the oil coming from fryers, the oil from traps are considered to be acidic and can ruin a batch of yellow oil if combined. Dewatering and removing all solids content can be very costly in which why cleaning of grease traps under the sinks or interceptors outside the restaurants are not free.
---
How do we setup up for used cooking oil collection service inc Santa Barbara, California?
Setting up a grease collection service, is simple. You can either call us toll free at 888-800-0118 or access our contact page, provide us the the following information:
Restaurant Name
Contact Person (First and Last Name)
Email Address
Phone Number (Business and Mobile)
Address of Restaurant
Hours of Operation
Call Us
---
Other Services Provided In Santa Barbara.
Grease Trap Cleaning | Grease Interceptor Pumping | Plumbing Service | Hood and Exhaust Cleaning | High Pressure Washing With Water Recovery | Grease Trap Sales and Installation
Other Service Provided By Us & Our Partners
We Are A One Stop Shop For All Your Commecial Kitchen Related Needs. From Used Cooking Grease Oil Collection To Plumbing Services We Can Help.
As Your Servicer, We Understand The Importance of Adapting To Our Your Needs.
Other Service
Grease Management Offers Specialty Services For Restaurants and Other Food Servicing Companies In Santa Barbara, California